Wentworth College has a dedicated "French Language Hub" that supports students new to the French language as well as those who are more advanced in their usage and understanding.  It also offers French lessons to the community, not just Wentworth students.
Available to Wentworth students:
French Lessons – (optional subject) from Year 8 to Year 13.  Advanced students prepare for their IGCSE, AS and A Level examinations at the end of the year. To help them with vocabulary, the students use the website 'Quizlet' – a free resource that helps with vocabulary through fun games.
French Club – held every Wednesday lunchtime, we play a different French movie each week, students can play games, watch French videos, practice their French language skills or simply catch up on some of their French academic work with extra support available. The aim of this Club is to provide French lessons for any student from Years 7 to 13, regardless of their fluency. Some participants prepare for their Cambridge International examinations while others may want to simply explore their interest in the language and culture.
French Language Hub
All things French – open to the community
For lovers of all things French, the French Language Hub is open to the Whangaparaoa community for:
Adult French Classes – individuals or group classes – Available for all levels, the adult French classes have been running since 2015. Private tuition is also available. Please email Isabelle Gosse on igosse@wentworth.school.nz for details of current class times and costs, or to enquire about private lessons.
Beginner Plus – for students with some basic knowledge of French – every Wednesday at 8.40am
Absolute Beginners – for students new to the French language – every Wednesday at 9.45am
Intermediate Adult – for students with knowledge of French, this is a multimedia class looking at videos of current affairs in the news – every Thursday at 11am
Children's French Lessons – group class
Age 6 and Under – Every Tuesday at 3.30pm.  Please email Isabelle Gosse for availability and other class times.
Free Discussion Groups – For all the students involved in adult French classes, there is a free weekly discussion group currently being held on Fridays at 8.40am.
French Movie nights – bookings only – About 4 times a year, The French Hub hosts a French Movie night. This is an authentic French Immersion night where participants watch a movie (in French of course but with English subtitles) and is open to anyone who loves France's culture. They are usually accompanied by a themed gourmet buffet and are a thoroughly enjoyable event for all participants.
Movie Nights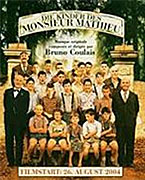 Film: Les Choristes
Set in the mid-twentieth century, principal M Rachin, an egotistical disciplinarian, runs a boarding school for troubled boys located in the French countryside. His approach does not seem to be working as the boys as a collective are an unruly bunch. The arrival to the school of the new supervisor, M. Clément Mathieu, a middle-aged man who is grasping at finding his place in life after a series of failed endeavors butts heads with Rachin and tries a new approach of trying to match the discipline to the crime with the boys.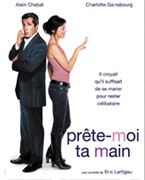 Film: Prête-moi ta main! (I do!)
Food: Country Buffet – A selection of French meats and cheeses
Prête-moi ta main! – a Middle-aged Parisian bachelor Luis Costa is in no rush to get married. But, when his devoted mother, Geneviève and five sisters agree that he should settle down, they set Luis up for a series of doomed dates. Luis soon tires of dining out with strangers, so he arranges for his friend's sister, Emmanuelle to pose as his fiancée. Conceived with the hope of getting his family off his back, the plan comically complicates Luis's life.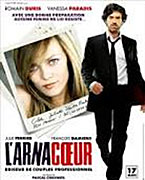 Film: L 'Arnacoeur (Heartbreaker)
Food: Apples is the theme of this evening
Heartbreaker is an action-packed romantic comedy. Alex is a charming, funny and effortlessly cool, professional heartbreaker who for a fee can turn any husband, fiance or boyfriend into an ex. Alex has one ironclad rule: He only breaks up couples where the woman is unhappy. His latest job will put that rule to the test. The target is Juliette, a beautiful heiress.
Film: Allied
Food: An international mix of CHOCOLATE recipes and all things chocolate
Allies is a 2016 romantic thriller film directed by Robert Zemeckis and written by Steven Knight. It stars Brad Pitt as a Canadian intelligence officer and Marion Cotillard as a French Resistance fighter and collaborator, who fall in love during a mission in Casablanca.