Tuatara Class have been incredibly busy this term. Please see all of the fun things we have been learning below:
Here we are learning Origami in Art.
In Maths we have been learning about ratios. We explored this by mixing different ratios of paints. This was a very fun Maths lesson!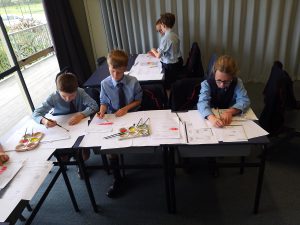 We also went on a fantastic school trip to Auckland Museum, where we listened to some Myths and Legends. A particular highlight, when exploring the Museum, was the earthquake room.
In Computer Science, we have been making lots of noise whilst learning to create our own music. Our finished products sounded great!!
We even had a lovely visit from some college students. This was a fabulous session, where the college students read their stories to us, and we shared our own publishing with them.
This term we also completed our school cross country. I was very impressed with all of our students!
A special congratulations goes to Amy, Konstantin and Aston, who represented Wentworth Primary School at Interschool cross country. Well done Amy for placing 8th in the year 5 girls races.
We really have been busy so far this term!!