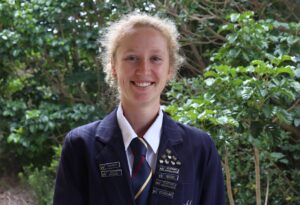 When it comes to exceptional students, Wentworth College's Deputy Head Girl, Angelina Gosse, has had an exciting journey to get to where she is today.
The high achieving 17-year-old was originally born in Canada, before moving to Switzerland and then to France. At the age of 10, she left France with her parents to sail around the world for 18 months on their 80 foot racing sailing yacht, which she still lives on today. She spent 6 months in the Mediterranean, 6 months in the West Indies, and 6 months around Tahiti.
Angelina arrived at Wentworth after that voyage as a quiet Year 7 student, not speaking a word of English. She credits Wentworth's strong ESOL programme with helping her quickly to pick up the basics to be able to understand classes, but also to understand what people around her were saying. "A special thanks to English teacher Mrs Jordan for that. I am now fluent in English and hold basics in Spanish too."
Today, Angelina can call herself a true linguist, achieving "Top of the World" in A.S. French Language, in the 2020 Outstanding Cambridge Learner Awards, as well as 96% in A.S. English Literature. This examination mark would be exceptional for a first language speaker of English, but to get such impressive marks when it is your second language shows Angelina's phenomenal academic talent.
The key to Angelina's remarkable success are her teachers, and also being very organised.
In order to achieve outstanding results at this level, Angelina was quick to point out, "I really make a commitment to be organised. I plan everything – so that I can do all the work needed as soon as it is given to me, which is key to keep up to date but to also plan out some free time. This enables me not to get tired, enjoy life, but also get high results."
She is also quick to give praise to the teachers at Wentworth "My teachers have always been able to personally 'coach' me and answer my questions. It is very beneficial because it enables me to get a deeper understanding of the syllabus and also to push my learning further"
Now a senior Year 13 student at Wentworth, Angelina is studying Cambridge A Levels in Mathematics, Biology, French and Economics, as well as A.S. Physics too. In her spare time, she loves to windsurf, and is a talented pianist. She even has a full sized piano on her boat!
"After Wentworth, I plan to apply to universities throughout England, Switzerland and France. While waiting for my results, I am considering spending some time in a New Zealand university to keep up with the first year of my Bachelor's Degree majoring in Biology"
"I am passionate about Biology and science as a whole; I am especially interested in bionics but also in medicine-related areas such as embryology. I am therefore thinking of studying a Bachelor of Biology or Biomedical Sciences. I would love to pursue a career related to this field."