Team 1 NNH – Win 31-19 Takapuna 4
Team 1 had a convincing win against Takapuna 4 on Saturday. Our defence worked well together to stop Takapuna scoring goals and out attack improved as the game progressed. The team has played two games since grading and are currently top of the table based on goal difference.
Caitlin Smith
Team 2 HBC
– Loss 20-33 Raiders
Although Team 2 lost this game to the Raiders, the team is making improvements in their play. The team is communicating well on court, spreading out more and making less risky passes. The team's performance has improved as a whole since the last time they played the Raiders.
Orion Houseman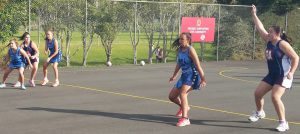 Year 8 – Win 22-10 Orewa 7/5
The Year 8 team had a great game on Saturday, beating Orewa 7/5 22-10. It was a fun game and Louis stepped in to play as the team were short on players.
Phoebe Andrew
Year 7
– Loss 6-21 Northcross 7/5
It was a tough game last week for the Year 7 team as they were short of players due to sickness. The team were missing one of their key shooters which impacted on the number of goals they were able to score.
Bethany Smith