Senior Team 1 NNH:
Senior Team 1 played their last grading game on Saturday at North Harbour against Birkenhead 2. At the start of the game, the two teams were evenly matched on goals but Birkenhead pulled ahead mid-game leaving Wentworth trailing behind by two goals. Wentworth came back in the last quarter to level the score and with good teamwork and determination won the game with a score of 29 to 28.
Senior Team 2 HBC:
Senior Team 2 had a tough game against the Raiders but the players improved on their previous game. It was a challenging game and the team lost 36-12.
Year 8 HBC:
The Year 8 team lost 15-4 to Orewa College 7/2, and felt very small against their tall players. Rosie Li played in centre position and was the star Player of the Day. The team enjoyed the game and had fun.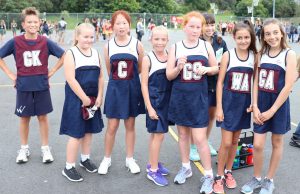 Year 7 NNH:
Grading at North Harbour has finished and and the Year 7 team have been placed in Grade 3 Red. The Year 7 team had an actioned-packed game on Thursday against Northcote 7/2. The team struggled to find their form in the first quarter, trailing behind 7-0. By making some player changes, Wentworth were winning the game in the third quarter, ahead by four goals. Unfortunately, the team lost its focus in the last quarter and were beaten by Northcote 21-20.